By Antonia DeBianchi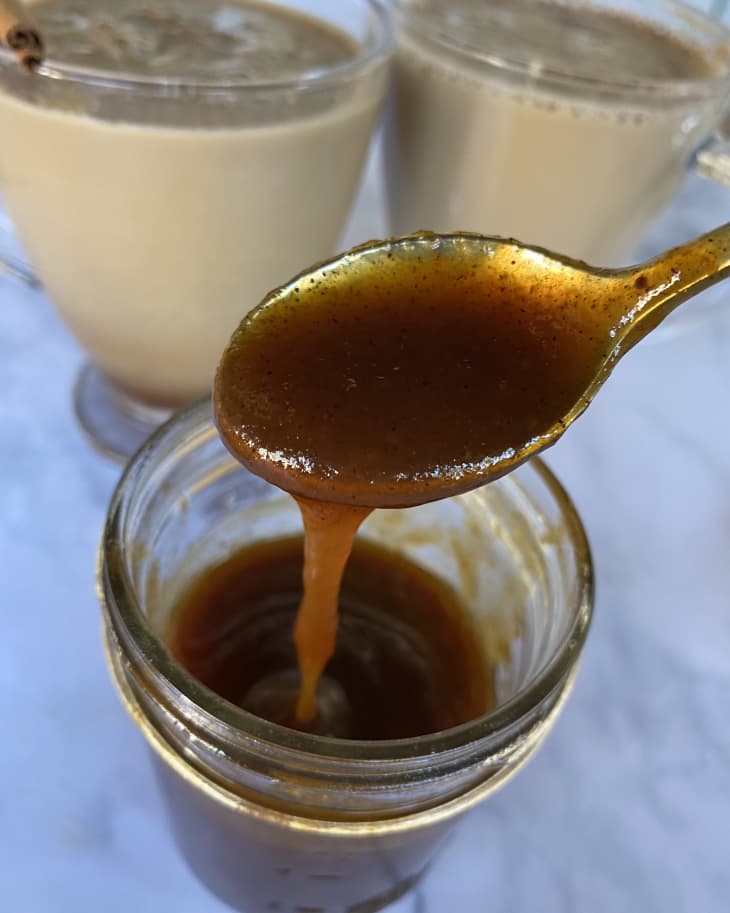 If your TikTok is overflowing with pumpkin recipes, you're not alone. From pumpkin bread to chewy pumpkin cookies, my "for you" page is constantly populating autumn recipe inspo. The one that keeps showing up more and more? Homemade pumpkin spice syrup.
When I came across this video, I was intrigued — not because I'm a die-hard pumpkin spice latte fan, but because I haven't found a PSL that I've fallen in love with yet (sorry, Starbucks). The coffee shop pumpkin spice drinks I've tried over the years all taste too artificial to me. I decided to put this homemade version to the test and see if TikTok's viral homemade pumpkin spice syrup will win me over to PSL fandom. Here's how it went.
How to Make Homemade Pumpkin Spice Syrup
As with most time-limited TikToks, this recipe is very simple. All you have to do is whisk together 2 cups of brown sugar, 1/2 cup pumpkin purée, 1 tablespoon pumpkin pie spice, and 1 1/2 cups water and let it simmer. At this point, the pumpkin spice and sugar perfuming over the stove will make your kitchen smell incredible. Once the sugar dissolves, remove from heat and let the syrup cool in the refrigerator before using.
With viral recipes, I often find that instructions are pretty fluid and it takes some trial and error to reach the desired finished product. During my first attempt at making the pumpkin spice syrup, I followed the order of ingredients from the video. But after the syrup cooled, I was left with a thin, watery mixture. Since I was expecting a rich, thick consistency, I tossed my soupy first try and went back to make some changes.
This time, I reduced the water to 1 cup instead of 1 1/2. Then, I let the brown sugar, water, and pumpkin pie spice simmer and thicken on their own. Once the sugar was completely dissolved, I mixed in the pumpkin purée and removed it from heat. This ensured the moisture of the pumpkin purée didn't make the syrup too liquidy. The difference between the first attempt and the second was palpable. This adjusted method yielded a very thick result that matched the TikTok video's luscious consistency.
Get the recipe: Homemade Pumpkin Spice Syrup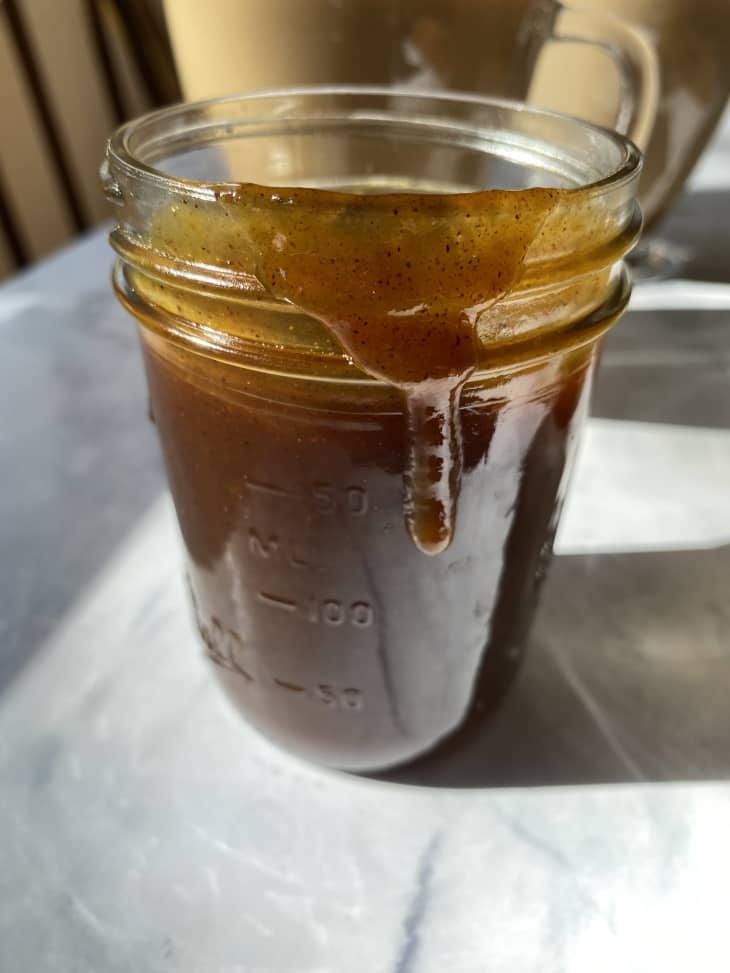 My Honest Review
At first glance, this recipe seems foolproof, but there were definitely some key instructions missing from the bite-sized video. When you grab inspiration from viral TikTok recipes (baked feta pasta, I'm looking at you), just be aware some might not be thoroughly tested, so it's more than okay to adjust ingredients and methods as needed.
Despite some hiccups, I admit the actual homemade pumpkin spice syrup was delightful. I mixed it in with a mug of freshly brewed coffee and whole milk. Don't hate me, but it was better than any Dunkin' or Starbucks PSL I've ever had. Seriously, it was so good. I added about a tablespoon of syrup to my coffee, which was the perfect amount. If you have a sweet tooth, simply add another couple of teaspoons. While the flavor was strong, it wasn't all-consuming or artificial, so I definitely achieved my desired natural sweetness. I added it to a homemade iced latte and it tasted even better chilled.
The best part about this recipe is that it's so informal that you can really make it your own. Next time, I'd love to try it with dark brown sugar for a more robust flavor, along with some vanilla extract for an extra boost.
Read more: Make Your Own Pumpkin Spice Syrup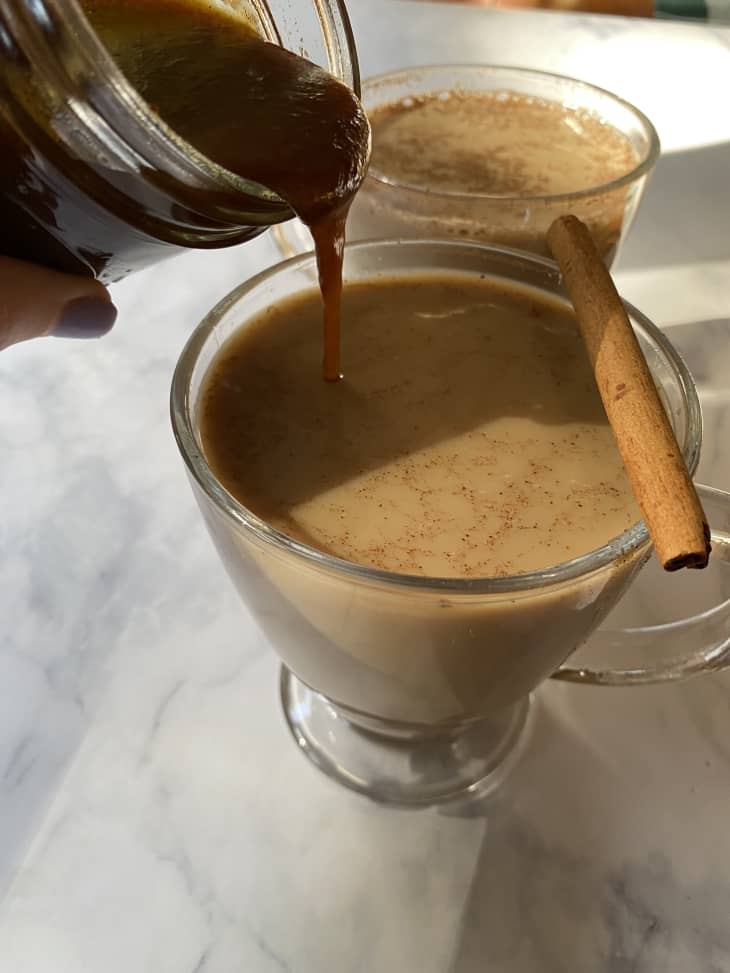 My 4 Tips for Making Pumpkin Spice Syrup
Reduce the amount of water. To yield a thicker result, cut down the amount of water to one cup.
Use a shallow pot. Using a shallow pot will help the syrup cook and thicken faster.
Let the water and brown sugar simmer first. Letting the water and sugar cook on their own before adding the pumpkin purée will allow the syrup to thicken faster and more efficiently than it would otherwise. Once thick, mix in the pumpkin purée until combined and remove it from the heat. This way the purée will add to the rich texture without watering it down.
Don't be afraid to let it simmer for longer. If your brown sugar and water mixture is still not thick after simmering for about two minutes, leave it on the stove at medium-low heat for another five to 10 minutes.